Welcome!
This is a personal wiki belonging to the me. Its goal is to make my life easier by organizing my thoughts.
If you would like to read said thoughts then you are in the right place.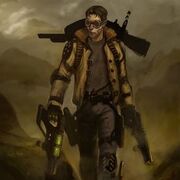 A little about Me
My real name is Eric Dopp
I was born on May 26th 1994 in Berkley, Michigan
I received ISFJ and INFP personality types but associate myself the most with the INFP personality type
I prefer the science fiction genre
I need to be better organized
My favorite color is yellow
I love the sciences
I am a cat person
Fanfiction orientation
This wiki will mostly (if not completely) be used to organize my fanfiction based around the Fallout universe. As such, you should verse yourself of its details so the pages here make more sense.
Commissions
Oh! I now *apparently* do commissions!
Some of my fellow Fallout fans have requested pages of me, both of ideas of their own and ideas of mine they wished to see before I was able to (not too lazy to) make them on my own.
So if you have an idea you wish to see or an idea of your own you wish to pitch for me to put into my fanfiction, just make it into a page and put in "Commissions" as the Category and a brief description of what you'd like to say.
WARNING: Not every idea will be accepted and details are subject to change as I see fit to best fit my fanfic. You have been warned.