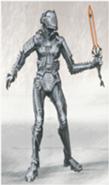 Passive is the unique variant of the Chinese Stealth Suit in Motown. Owned by Yuko Satomi, Passive is worn by her when she operates as a follower. Passive can be stolen beforehand by taking it from Yuko's personal container in her room in the Motown Vault.
Yuko originally came in possession of the suit in order to carry out the failed attempt at extracting the New Plague virus from the United States of America. Before Yuko could don the suit, Jeffrey Nowak confronted her and blew her cover. Yuko held onto it ever since and has been using it throughout her post-apocalyptic life to maintain her survival and her agenda.
Jeffrey Nowak made use of a counterpart radiation suit called Acquired alongside Yuko in their past adventures.
Characteristics
Edit
Passive operates better than a standard stealth suits with the stats:
has 42 DR compared to 28 DR and 18 DT compared to 12 DT
has 15 ER compared to 5 ER and 7 ET compared to 4 ET
has 30 FR compared to 10 FR and 13 FT compared to 8 FT
has 15 RR compared to 5 RR and 7 RT compared to 4 RT
has 600 item HP compared to 400 item HP
has 1.5 crouch-speed compared to 1.0 crouch-speed
has 1.5 stealth-field duration compared to 1.0 stealth-field duration
has a value of 3000 compared to 500
weighs 30 lbs compared to 20 lbs
like all gas masks, helmet/mask provides 100 GR at 85% item condition and above.
Passive also includes MaSMA integration and as such, auto-repairs when the suit's stealth field is activated and as its stealth field remains off at full charge, making it a stealth niche outfit.
Behind the Scenes
Edit
The Chinese symbol: 免 on the suit translates to "Free" in English and serves as irony to Yuko's character who was, for a large portion of her life, subjugated. When combined with the symbol 疫 on its counterpart, Acquired, it forms the word "Immunity" when translated to English. When immunity is combined with each suits's name, they make a reference to the biology terms passive immunity and acquired immunity.