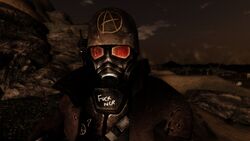 ERASER AGENCY EYES ONLY
Designation: ............................................................. Invictus
Gender: ......................................................................... Male
Birthplace: ...................... [UNKNOWN] Suspected to be NCR
Age: ............................. [UNKNOWN] Suspected to be 20 - 30
Race: ..................... [UNKNOWN] Suspected to be Caucasian
Rank: ................................................. NCR Ranger (Veteran)
Threat to scouts: ........................................................ Tier 3
Malignancy status: ................................................... Benign
---
Affiliation
Confirmed: Motown Enterprise, New California Republic (Formerly)
Role
Confirmed: Mercenary Tier 1
Suspected: Motown Enterprise Executive Informant
Influence
Confirmed: Local towns in the Motown Wasteland
Abilities
Confirmed: Subject is proficient with ballistic weapons, favors revolver given to him during his deployment as an NCR Veteran Ranger. Subject is capable of basic CQC.
Equipment
Subject wears an NCR refurbished riot gear armor standard issue to their veteran rangers.

Subject's armor is personalized with what could be best described as political graffiti as it contains messages condemning the NCR and questioning peace.

Subject has been reported utilizing typical ballistic weapons favored by NCR veteran rangers. Single-action firearms, combat knives, and a high-power revolver.

Subject was reported paying a notable amount of attention and emphasis on his revolver which was reported alongside as being coated with blood.
Scout Notes
Tier 3 "Threat to scouts" means the subject is expected to behave peacefully towards scouts but is capable of contending with one.
Tier 1 "Mercenary Role" means the subject is a high-grade mercenary expected to be able to contend with Eraser Agents man-for-man should he choose to do so.
Though his Tier is high, subject has been most commonly seen aiding and helping local townspeople. The tasks he aids them in have presently had no direct impact towards military efforts but have the potential to in the future.