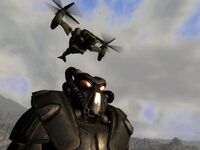 ERASER AGENCY EYES ONLY
Edit
Designation: ....................... Enclave Secret Service Agent CRONOS
Gender: .......................................................................................Male
Birthplace: ................................................ Control Station ENCLAVE
Age: ....................................... [UNKNOWN] Suspected to be 50 - 70+
Race: .................................. [UNKNOWN] Suspected to be Caucasian
Rank: ........................... [UNKNOWN] Suspected to be Tier 1 or Tier 2
Threat to scouts: ..................................................................... Tier 1
Malignancy status: .............................................................. Pending
---
Affiliation
Edit
Confirmed: Enclave
Suspected: Enclave High Command
Confirmed: Espionage; Sabotage, Subterfuge, Inciting Insurrection, Assassination, Infiltration and Acquisition, Reconnaissance, and Data Corruption
Suspected: Secret Service Agent Trainer
Influence
Edit
Suspected: Tribes, raider gangs, mercenary groups, Caesar's Legion
Abilities
Edit
Confirmed: Subject has displayed competency with marksmanship exclusively in regards to energy weapons mainly of the plasma variety. Subject is capable of utilizing shaped explosive charges for the role of infiltration and sabotage. Subject is capable of basic CQC.
Suspected: Subject has been reported as nearby in cases involving the activation of an Enclave Domestication Unit; suspected to be capable to utilizing them to incapacitate targets. Though subject has never been reported doing so, subject is suspected capable of utilizing ballistic weapons.
Equipment
Edit
Subject is always reported operating a suit of Enclave Power Armor Mk I; Armor suspected to be hardened and modified to meet the subject's criterion.

Subject's armor is suspected to be outfitted with some sort of intravenous chem delivery system, the reasons of which are suspected to be for combat performance though suspected recreational use has been reported more than once.
Subject has been reported utilizing AER9s with external and, suspected, internal modifications. Subject is more commonly reported using variable plasma weapons with suspected internal modifications.
Subject has been reported using controlled explosive detonations in order to sabotage infrastructure. Subject is most commonly reported using incendiary weaponry to compromise infrastructures.
Scout Notes
Edit
Tier 1 "Rank" means the subject reports to the highest level (Tier 0). Tier 2 reports to Tier 1.
Subject is classified as both until the Enclave's Tier 0 is identified.
Tier 1 "Threat to scouts" means the subject is suspected to have been trained in counter-espionage techniques and poses an extreme risk to scouting efforts. Extra distance from and discretion towards subject is strongly advised.
Subject's suspected possession and utilization of Enclave Domestication Units poses a unique threat to scouts. All scouts detailing subject are to make use of their suicide-implant in the event of forced implantation of such a device. Failure to do so will result in a Malignancy designation.